GET YOUR BRAND OUT THERE WITH THESE TRENDY ITEMS!
For-Most Specialties LLC
Welcome to For-Most Specialties LLC Promotional Products website! We are a full service promotional products company founded in 1994. We offer over 1,000,000 products to customize with your logo or sales message. Some of our strongest categories are pocket screwdrivers, can & bottle koozies, golf and folding umbrellas, folding chairs, sport bottles, tote bags, coolers and many others.

We are members of the Cincinnati Better Better Business Bureau as well as several industry associations. We offer great personalized customer service, a full service art department, and pride ourselves on our high rate of repeat business by taking care of our customers! Check out the stand alone websites that operate under the For-Most Specialties LLC umbrella. These sites include more specific niche categories that have been a product of focus for over 20 years!
KoozieWarehouse.com --Can and bottle koozies in all shapes & sizes
PocketScrewdrivers.com --Your go to place for all things screwdrivers
BlankKoozies.com -- Blank can & bottle koozies for printers and decorators!
SPOTLIGHT PRODUCT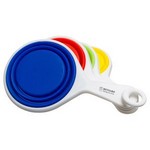 Pop Out Silicone Measuring Cups
This four piece set consists of 1/4, 1/3, 1/2 and 1 cup sizes. Cups store flat and easily pop open for use. Their rugged construction makes them dishwasher safe. 7 3/8" L x 4 1/8" W x 2" H
$5.15 - $5.79
What Our Customers Are Saying
We order the Phillips Blade Pocket Screwdriver often to use in design challenges in classrooms. They always work well. They are sturdy and finished well. The printing looks good. We had a ti...
Jordan Rader
COSI Columbus, OH